EDIT MAIN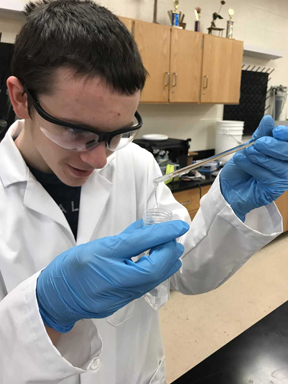 COURSE DESCRIPTION
Biotechnology is a hands-on program that combines traditional plant and animal breeding with genetic engineering techniques to develop, modify, or improve living organisms. Students will learn to use a variety of laboratory equipment including laboratory glassware, volumetric and electrophoresis equipment, spectrophotometer, centrifuges, autoclaves, microscropes, PH meters, and many other technical laboratory tools.
Instruction will include principles of scientific research; microbiology; genetic transfer; genetically modified organisms; and Biotechnology in plant science, animal science, medicine, and ecology. This course will help students to understand the important role biotechnology serves in today's global.
INDUSTRY CREDENTIALS
National Occupational Competency Testing with advanced certification is administered upon completion of the course.
EMPLOYMENT OPPORTUNITIES
Marketing, Merchandising, and Sales Representatives
Education and Communication Specialists
Social Services Professionals
Production Specialists
Managers and Financial Specialists
Scientists, Engineers, and Related Professions
LENGTH OF COURSE
One to three years (Grades 10, 11, and 12) depending on the student's interest and career goals.
POST SECONDARY OPPORTUNITIES
The Biotechnology program incorporates high academic standards that will help prepare students for post-secondary opportunities. Examples of post-secondary institutions are Penn State University, University of Delaware, and Allegany College of Maryland.