EDIT MAIN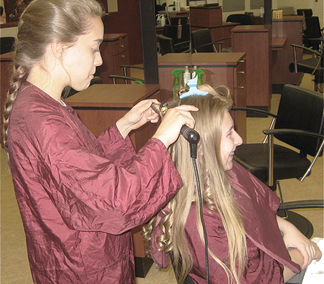 COURSE DESCRIPTION
The Cosmetology Program provides students with a unique learning experience as they perform all the necessary tasks to earn their cosmetology license. Theory is an important part of this course, as it gives the students the information they need to learn in order to pass their State Board Exam. The students have progressive hands-on classes which enable them to perfect their skills and apply the concepts learned in theory. Students also have the opportunity to work with the public, giving them job readiness and the capability to gain communication skills. Instruction is provided in basic skills :shampooing, scalp treatments, manicuring, hairstyling, cold waving, and haircutting; and more advanced skills: removal of superfluous hair, thermal waving and curling, chemical hair relaxing, skin care and make-up, hair coloring and lightening, chemistry, shop management and State Board of Cosmetology laws.
INDUSTRY CREDENTIALS
With good attendance throughout the three year course the students will earn over 1000 of the 1250 hours required to take the state board examination to receive a State License in Cosmetology. National Occupational Competency Testing with Advanced Certification is administered upon completion of the course.
CAREER OPPORTUNITIES
Cosmetology Operator, Teacher, Manicurist, Consultant, Esthetician, Salon Owner/Manager
POST SECONDARY OPPORTUNITIES
A student may attend a cosmetology school to complete their hours. They may also attain a teacher's license in cosmetology with additional hours.
LENGTH OF COURSE
Three years—Grades 10, 11, and 12