Students in the Health Assisting program raised $522.16 during the month of October to donate to the Bedford County Pink Ribbon Fund. Culinary program students assisted by baking cookies to be sold as part of the fundraiser. Pictured are 3rd session Health Assisting students and Dr. Katherine Erlichman, president of the Bedford County Pink Ribbon fund. Front row: Hannah Virts, Harlie Taylor, Miranda Brown, Ava Dively, Trista Lemin, Dr. Erlichman, Kate McNamara, Makeisha Lewis, and Nola Chamberlain. Back row: Lilly Mills, Ethan Murphy, Diamond Baughman, Sabrina Adams, Katelyn Treece, Kayla Hinish, Samantha Yokum, Mrs. McClelland, and Tanya Ruddy.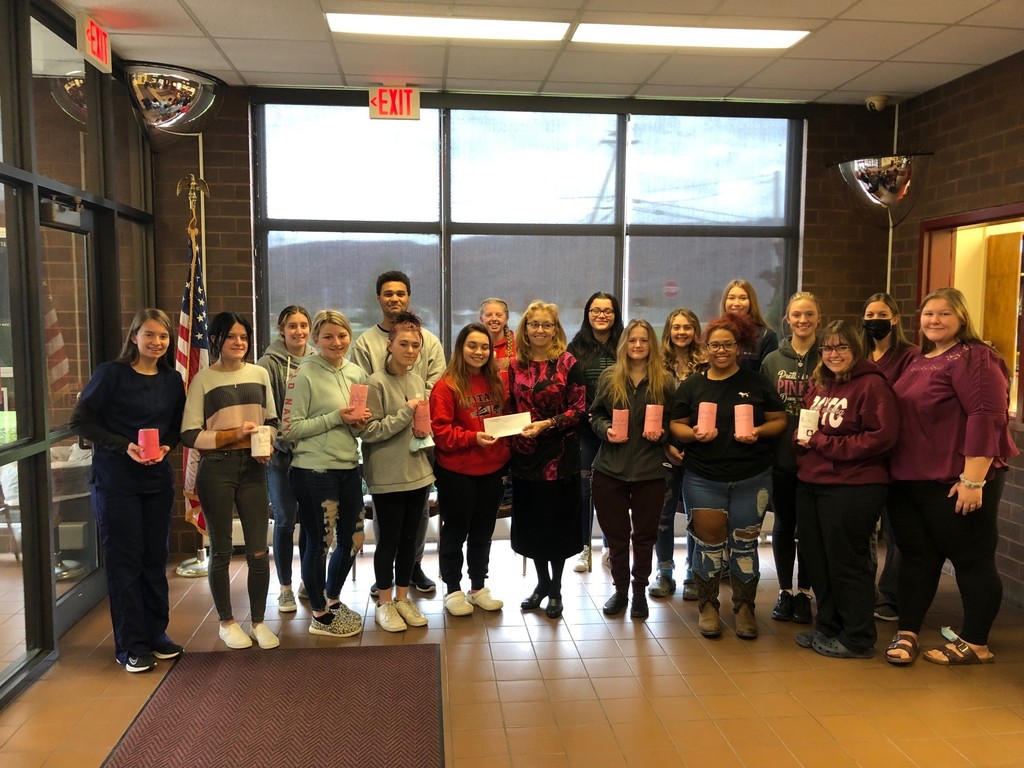 Congratulations to our October Students of the Month!!!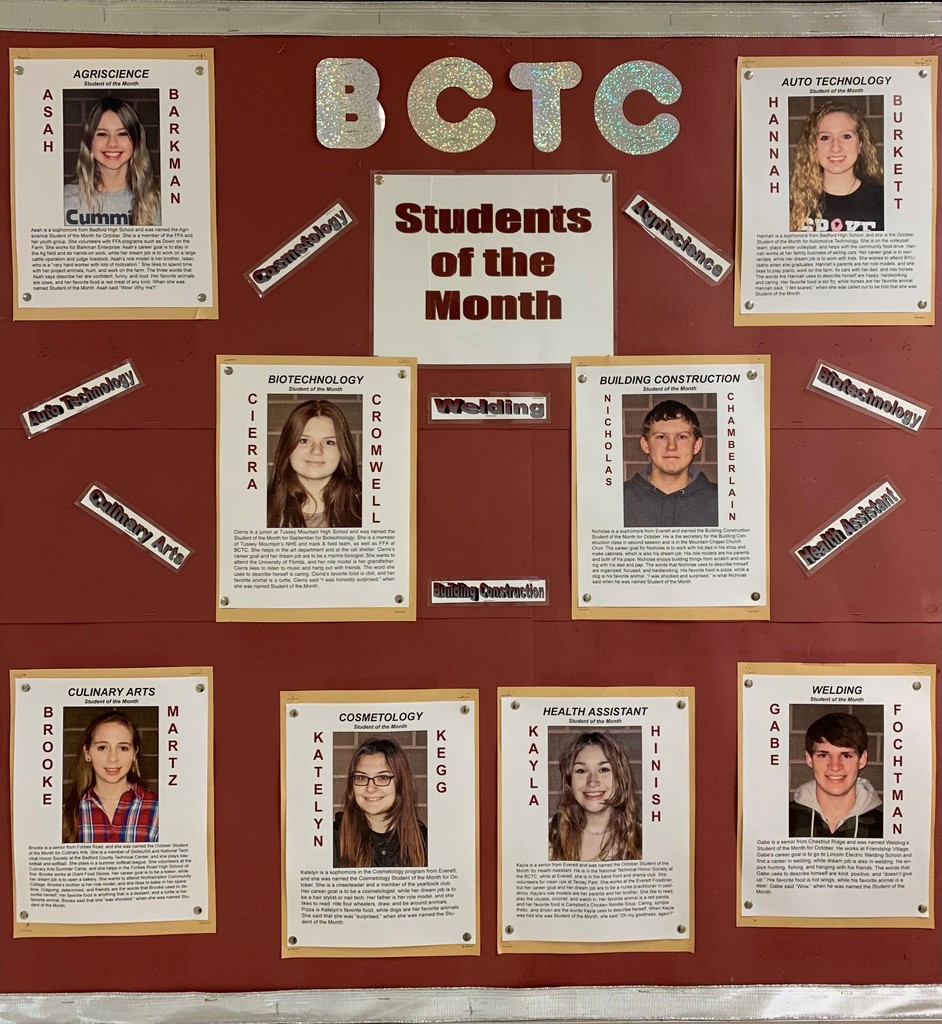 FFA members provided children's activities at Downtown on the Farm. The members provided pumpkin decorating, a small petting zoo and a corn pit for kids to play in while attending the festival.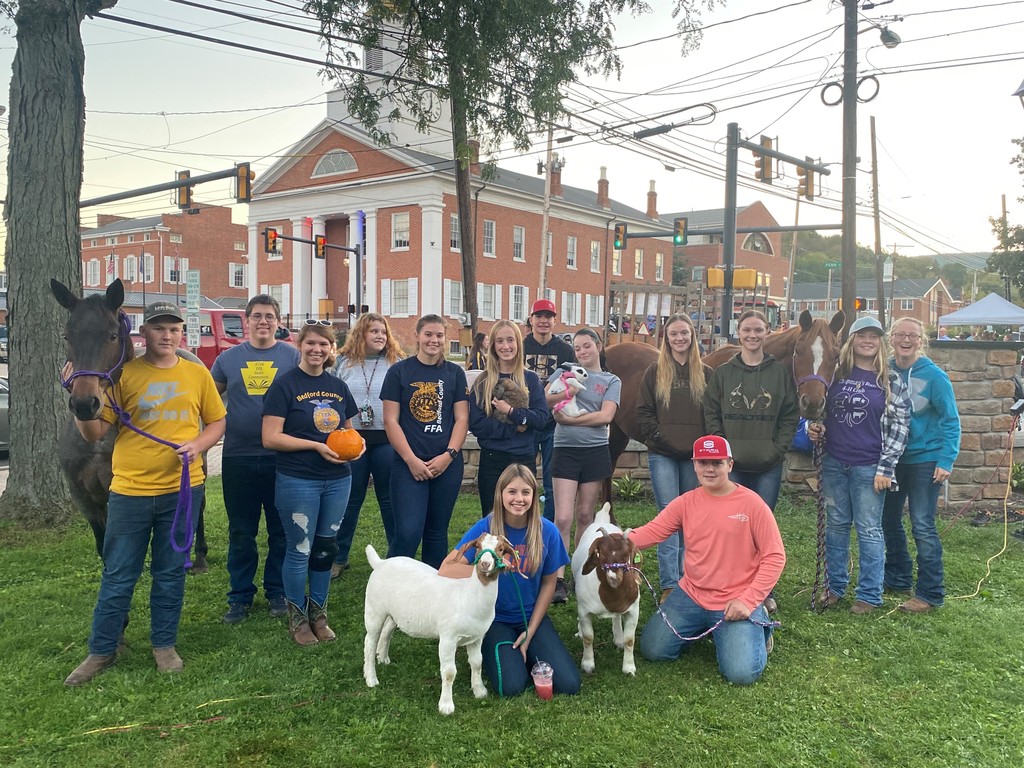 Students from Mr. Whysong's second session welding program attended the CaptiveAire ribbon cutting ceremony in celebration of their facility expansion in Bedford. In addtion to hearing Representative Topper speak, the students were able to learn more about the HVAC manufacturing process at CaptiveAire along with the associated jobs that are currently in high demand at their facility. Students were given an exclusive tour of the production line which featured former BCTC welders as well as assembly line workers, electricians, and engineers. Senior students who are 18 years of age will be eligible to complete a work experience in high school with CaptiveAire through the BCTC's Cooperative Education Program.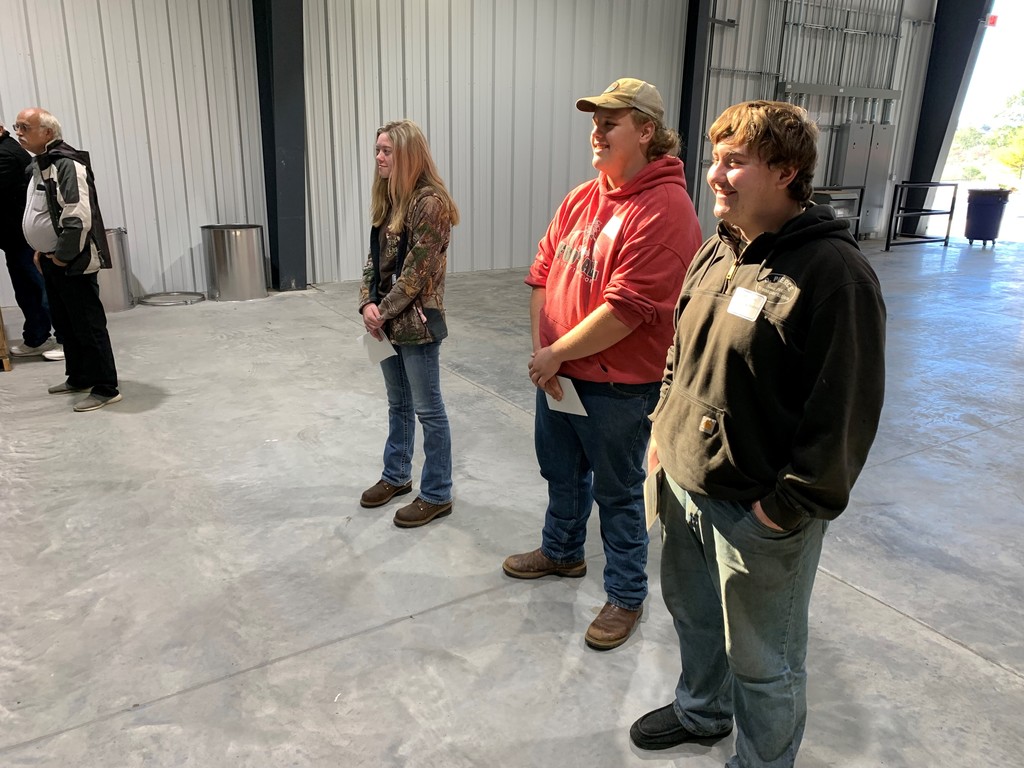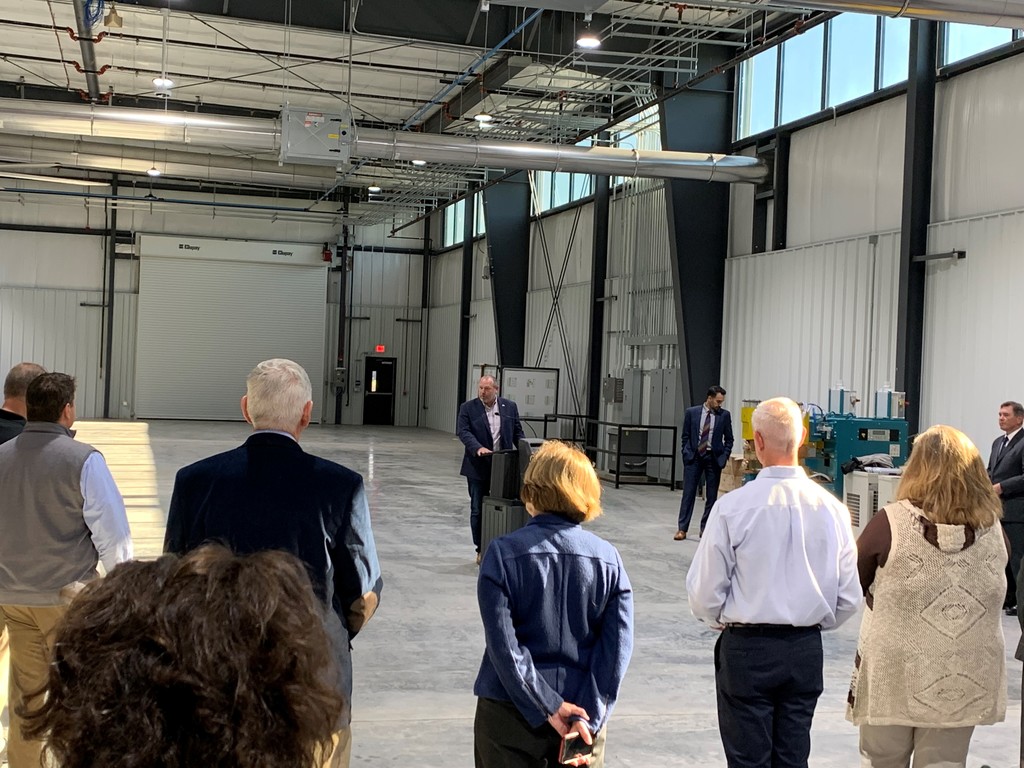 The phone system at the BCTC has been restored by Comcast and is fully operational.

Our phone lines are currently down due to a massive outage with our service provider, Comcast. You can still call us, but please leave a message and we will respond in a timely manner. We are able to communicate via email at this time as an alternative until our phone service is fully restored. Staff email addresses can be found here -
https://www.bedfordctc.org/staff
Thank you for your patience and understanding.

Students from Mr. Seller's Building Construction Program learn how to layout a square foundation for the potential site of a new outdoor classroom. His students learned about the 3-4-5 right triangle and the Pythagorean Theorem!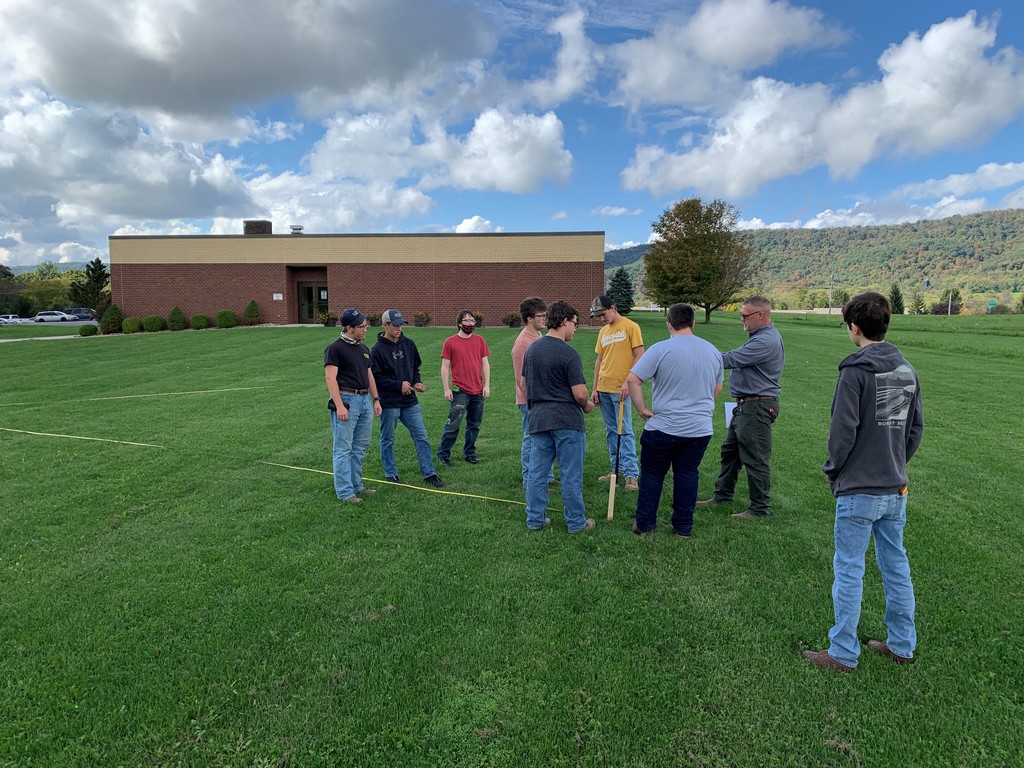 Employees from CommunityLIFE Bedford recently donated school supplies to the future health care workers being trained in the high school Health Assisting program at Bedford County Technical Center. Pictured are Lisa Jenkins, Behavioral Health Coordinator and Yvonne Winston, Clinic LPN with CommunityLIFE, as well as students from BCTC. Back Row: Jenkins, Winston, Ethan Murphy, Kate McNamara, Sabrina Adams, Miranda Brown, Samantha Yokum, Tanya Ruddy, Makeisha Lewis, Nola Chamberlain, Ava Dively, and Kelsey McClelland (Instructor). Front Row: Hannah Virts and Harlie Taylor.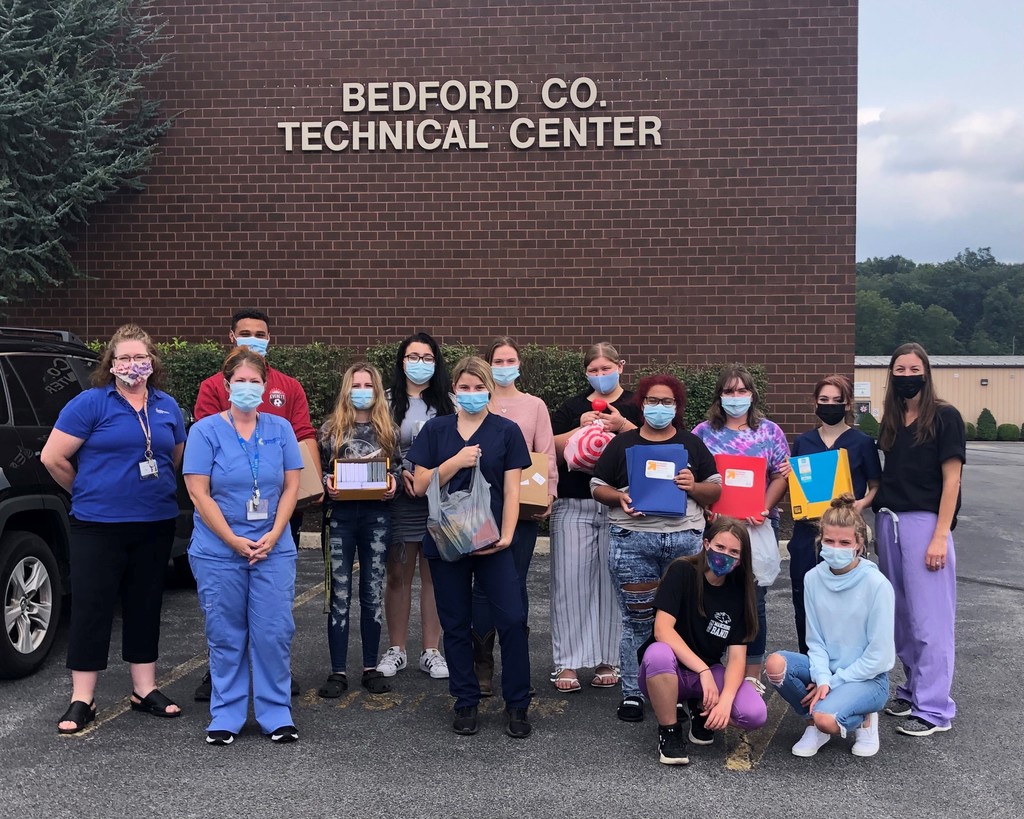 The Bedford County Technical Center is accepting applications for a full-time instructional aide. Individuals applying for this position should possess a desire to work with young adults and an interest in career and technical education. Prior experience in an educational setting preferred. Submit cover letter, resume, Act 34, 114 and 151 clearances to BCTC JOC Secretary, 195 Pennknoll Road, Everett, PA 15537. Application deadline is October 1, 2021. EOE

Beginning tomorrow, September 7, 2021, the face covering mandate issued by the PA Department of Health goes into effect for all students and staff at the BCTC. Students who qualify for a medical exemption should communicate that exemption with their home school district. The home school district will provide the BCTC with notification of any student who qualifies for the face covering exemption.

The Bedford County Technical Center will be canceled due to flooding and road conditions tomorrow, September 2, 2021. Tomorrow is not a virtual day, we are canceled and there will not be any education tomorrow, Thursday, September 2, 2021.

Due to the severe weather forecast, the BCTC will be full virtual tomorrow, Wednesday, September 1. All BCTC students will complete their assignments and instruction virtually with their teacher. Students should log in to Skyward to complete their work for the day.

Our first student day is this Monday, August 23. We are excited to welcome all of our students back with full face-to-face learning for the 2021-22 school year!

New student orientation is scheduled for the evening of Thursday, August 19. Two sessions will be held and students are assigned to a session by their last name. Students with last name A through K will report at 5:30. Students with last name L through Z will report at 7:15. We are excited to welcome our new students!

Preparations are well under way for the start of the 2021-22 school year. New student orientation is scheduled for Thursday, August 19. The first student day of the new school year is Monday, August 23. Please check the newsfeed often for information and updates.

Due to the chance of rain the Senior Awards night for the Bedford County Technical Center has been moved indoors to the Bedford High School Auditorium on Monday May 24th at 7:00pm. In order to maintain as much safety as possible we ask that social distancing be maintained and masks be worn until seated. Students were allocated 8 slots for family and guests. We ask that family be seated together. Upon arrival seniors report to the gymnasium, parents and guests report to the auditorium.


Check out the tribute to our graduating seniors found in the Documents portion of this website: "BCTC 2020 Graduation Power PointBCTC 2020 Graduation Power Point"

Tonight's meeting of the Bedford County Technical Center's JOC will be available on Zoom. The link to join the meeting is on the website under 'News'.